YOUR DAYS ARE ABOUT TO GET BETTER!
The physical and mental benefits of adding a hot tub to your life are so significant and numerous that we don't know why anyone would want to live without one! That's why The Spa Gallery is proud to offer Hot Spring Spas. The legendary quality and performance of Hot Spring Spas have made them one of the most popular hot tubs in the world. In addition to Hot Spring Spas, The Spa Gallery also offers Endless Pool Swim Systems and Doughboy above ground pools, all leading the industry in quality, ease of maintenance, and performance.

Contact us with questions 417-755-7918 or visit us today at 1251 E Republic Rd, Springfield, MO 65804.
This free app puts the power of augmented reality at your fingertips. Shop and compare models virtually, in any color combination, and see how they look in your space. Virtual View AR takes the guesswork out of choosing your perfect spa.

Download the app today.

WE INVITE YOU TO VISIT OUR GALLERY OF HOT SPRING SPAS AND VISIT US IN PERSON.
Schedule a VIP visit, and you will have uninterrupted attention.
You can even schedule a time to bring a swimsuit and try one of our
most popular models in a private room!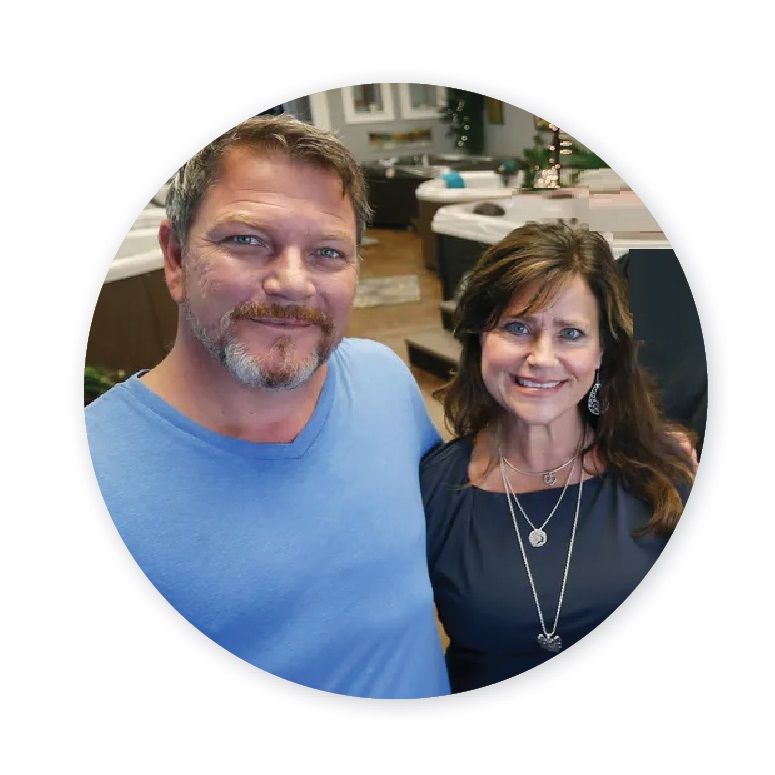 MEET KELLY & SCOTT

Kelly and Scott Thomas are almost spa legends in the 417.  This dynamic duo currently manages The Spa Gallery, where they have continued their tradition of helping people find the perfect hot tub. When it comes to finding that "oh-so-amazing" hot tub that checks ALL your boxes, experience matters. Scott and Kelly have played matchmaker for customers in Springfield, Nixa, Ozark, Rogersville, Republic, and surrounding areas in Missouri since the early 1990s! They will recommend the perfect model for your health, lifestyle, and budget.

Being there after the sale with excellent service for your new Hot Spring Spa, Endless Pool Swim Spa, or Doughboy Pool is equally essential. Just read some of our fantastic reviews about the outstanding customer service and repair service you can expect from The Spa Gallery. With over 100 years of experience in the industry, you can trust that your parts, service, advice, and supply need will be filled to your highest expectations.
Testimonials
Here's what our customers have to say:
"My wife and I had a very good experience, purchasing our hot tub from The Spa Gallery. From the beginning, they were kind, helpful, and never made us feel pressured to buy any one particular type of model. They were also able to accommodate putting my hot tub on my back deck. Because our upper level deck had no stairs, they had to utilize a crane. Everything went smoothly and as promised. All that said, we highly recommend Scott and The Spa Gallery."
"I had the absolute best experience from beginning to end with Spa Gallery in Springfield, Mo and specifically Scott and Kelly Thomas. They not only were very informative of the spa we bought but were amazing in their customer service all along the journey. The young men that came and installed the spa and explained the use of the hot tub were excellent and very professional. I highly recommend this company to you if you are ready to purchase a spa . Super happy owners!"
"Kelly and Scott Thomas were very helpful and took the time to educate us about all of the hot tub options available. There is a lot to consider in terms of engineering, construction, size, seating, jets and many other features! Kelly helped us narrow down the choices and contacted us as soon as the new models were delivered. We appreciated the holistic approach and the time spent building a relationship with us as future clients. Scott ensured a quality installation, set up and start-up of our 2020 Aria model by Hot Springs. A few hours after delivery, we were able to enjoy our new spa at 102 degrees. Perfection!!! Thank you Kelly and Scott for your expertise, professionalism and client service!"
"They were very punctual, neat and careful! We have been thrilled with this company and their service. And we love our new hot tub! But every step of the way has just been a very great pleasure dealing with this company!"
"Just picked up a new spa from the Spa Gallery and I have to admit my expectations were blown away! Scott walked me through the information I was looking for and had the best showroom selection i found in town having exactly what my family was looking for. (Shopped several competitors). Install was quick, clean, and flawless. Price was right. Kelly and Chris are also very kind and helpful as was the rest of the staff. Highly recommend!"
"We purchased a hot tub and a swimfit pool from Scott and Kelly. They did everything they said they would do. We love out units especially the pool! They are always there to answer questions or help with balancing the water. Highly recommend!!!"
"My husband and I were looking for a new hot tub so we looked at 6 different stores in the Springfield area. The Spa Gallery had the best customer service and selection at a great price. Scott and Kelly are great! Our whole experience was amazing! I would definitely recommend the spa gallery if your looking to purchase a hot tub!"
"If you are shopping around, or just curious, definitely go see Kelly & Scott at

The Spa Gallery 1251 East Republic Road, Springfield, Mo.

It was our last stop after a long day of shopping around for the perfect tub, and I wish it had been our first! Great company and fantastic people."